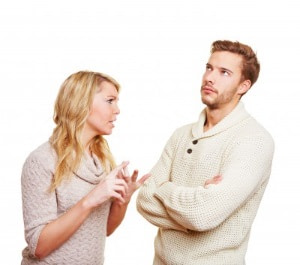 People who are not adept with conflict resolution look for other ways to fix a failing marriage each time they argue with their partners.
There are a lot of people who are not completely aware of the factors that cause marital issues. Hence, they keep on groping for answers in the dark as they try different ways to fix their marriage leading to their mounting frustration.
In order to resolve marriage problems, couples must be made aware of the main causes of their marital conflicts.
By doing so, they will be able to find a possible solution to the certain issues that plague their relationships by determining which aspect of their marriage they should work on.
More from RelationshipsAdvice: Save My Marriage Today Review – Amy Waterman
To prevent more frustration, here are some of the most common marriage problems that beleaguer today's many married couples.
1. Growing Apart
As the years of being together pass by, a lot of married couples these days unknowingly grow apart from each other. It is said that this growing apart phase is common in the evolution of marriage.
When couples just married, the level of romantic feelings is high. However, this level of romantic emotions diminishes after years of being married.
Unfortunately, most couples take each other for granted as time goes by, and they end up becoming strangers.
If you are emotionally detached from your partner, it makes it easy for even the most basic conflicts to break up your marriage. This is because you have lost your mutual connection as friends and as lovers.
In order to prevent yourselves from growing apart, the first thing that you need to do is to talk to your partner about his or her thoughts about your marriage. Ask your partner for his input and opinion about your marriage.
More importantly, you need to constantly talk to your partner about your love and how your love grows or changes as a married couple. This is different from asking your spouse if they still love you or not since that may irritate your partner further.
Simply talk about the plans you have for your children and family and what makes living together as a couple challenging or beneficial.
It is important to have this kind of conversation with your spouse for you to know how you can become a better partner.
Likewise, you also need to voice out what you are expecting in your marriage relationship so that your partner can fully understand your needs and desires.
Remember to listen to your partner and share with him or her in a non-confrontational manner your views on your marriage.
As an example, you can ask them how they see themselves in say, the next ten years or what family time means for them.
Even when you think you are already aware of these things, you will still be dazed by how much your partner has grown in all your years together.
2. Blamestorming
What makes a marital problem escalate to something that is beyond fixing is when you start to think that your partner's flaws are the cause of the conflict.
It is a destructive habit to have in the relationship, and it will also trigger so much hatred between you and your partner.
With this mindset, you do not only blame your partner for every mess that your relationship is in, but you also throw unnecessary accusations at him or her without determining the real cause of the problem first.
Blamestorming brings out the worst out of every couple, and if this becomes a common habit in your relationship, you will only find yourselves burned out at the end of your failed marriage.
If you really want to turn your marriage around to prevent it from breaking up, you can start by reminding yourself not to be too critical of your partner.
Moreover, you also need to practice patience and empathy and be more careful on how you express your frustrations on your relationship. Learn to talk about issues as a couple instead of blaming each other.
Act positively and remember that becoming a more understanding and respectful partner is a choice you need to make every day.
Remember that even when you are mad at your partner, you have every right to be angry, but you do not need to be rude and harsh. Hurtful words hurled at each other's faces will only cut wounds deeper in your relationship.
Learn how to be calm even during arguments and talk in a respectful and tactful manner.
3. Destructive Fighting Patterns
When couples are fighting, emotions are at their highest, and unfortunately, the fights get ugly fast that couples throw hurtful and offensive words in their attempt to win the fight.
When you fight with your partner and you cannot control yourself from slaying him or here with obscenities and spiteful words to further wound him or her, it becomes harder to find a common ground and resolve your issues.
It is an unhealthy fighting pattern when couples resort to using vicious words in order to win an argument. Instead, what couples need to learn is how to become level-headed even during a fight.
You need to calm down when you are feeling aggressive or agitated because having no self-control will only push things to a messier level.
For example, when you feel that a simple discussion has threateningly turned into a heated argument, you can say, "Honey, this argument we are having is driving me nuts, can we stop and take a breather. I do not want to make things worse."
In addition, when your partner says something that is really hurtful, you can acknowledge it and tell it to your spouse in a gentle manner, such as "Hey, that stings. Can we please talk about this in a more respectful manner? Also, let us not use words that we will regret so please be gentle with me."
As couples, you need to learn the art of fighting fair. You do not need to one-up each other because you are a couple as much as you are a team, and counting your flaws or trying to always win an argument will not do your relationship any good.
Trying to fix a marriage and preventing it from becoming a complete failure all boils down on the willingness of both parties to make healthy and powerful changes in your marriage.
As long as you are both committed to your relationship, you will find it easy to meet common ground after every argument and become better as a team in resolving conflicts that may plague your marriage in the future.