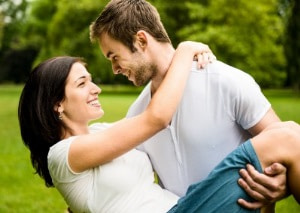 Running out of ideas to impress someone special? Is it that time of the year when you want to give her something more than just a gift? A peace offering perhaps?
With the Valentine's Day fever just around the corner, finding the perfect solution to your dilemma won't be a problem.
This is the right time to step up and show how much you really love her, but not with just some Fancy-Shmancy box of chocolates or something out of your neighbor Ned's precious garden and all the cliché stuff. However, that's just the problem isn't it? It's such an out of season formula.
More from RelationshipsAdvice: What Do Men Really Want in a Woman
Sure, it's the thought that counts, but your effort will reflect how much you think of her.
Nothing can melt a woman's heart more than sheer effort fueled by love.
Bring back that sweet smile across your girlfriend's face with some amazing tricks up your sleeve.
The Element of Surprise
When was the last time you planned something for your girl? Have you ever taken the time to surprise her with something special? Don't let the romance die down! Show her how much of a hopeless romantic you are.
Actually, you don't need to burn out all your money with a baga-boom-boom and flash it up with expensive things. Even the littlest things paired up with simple gestures can shoot it right out the park.
You may think that surprises are just a little too cheesy, but you'll never know how truly it is appreciated by your partner. This could just show how much you really think of her and what could make her happy.
It could be leaving a note or some flowers on her bedside, a thoughtful breakfast in bed that you've prepared yourself, a lovely serenade just out on the patio matched with scented candles and among other things.
The most rewarding thing in surprising her would be seeing her reaction.Her happiness is all that counts afterall.
Sometimes just doing something unexpected could strike a chord in her heart.
Haven't you heard? Spontaneity is the new sexy. It could spark up that monotonous relationship that you have again and maybe to another level. Besides, all that careful planning adds that certain thrill that you've been searching for.
More from RelationshipsAdvice: 5 Relationship Tips for Men to Build an Everlasting Love
Just Because
Throw aside that shyness and show her your soft side. It doesn't really need to be her birthday, your anniversary or Valentine's Day to be able to give her a gift. Why don't you give something to cheer her up when you know she's bummed?
Her favorite flowers, call her during breaks, pick her up at work or at school, leave notes in between her book, tidy up her desk, make her laugh by telling those corny jokes she misses or give her a message when she gets home.
Doing these kinds of things with no particular reason at all, just because you want to, just because you love to see her smile and simply because you love her. It's not hard to just go out of your way and do a little something for no occasion.
Compliment her, even for the little things such as her perfume, her outfit, her hair, or anything that you like about her. Make her feel that you love every bit of her, inside and out.
Go old school and revive the flames of those sappy love letters. Write her a poem or just a letter of pure appreciation. She'll know how much thought you put into it with every word.
You can make it as fun and creative as you like. The key here is to just enjoy each other's company and knowing little things that could perk up both your days.
Spiced-up Date Night
Shed some new light to your dates and sweep her off her feet. Spice up that love life by cooking her favorite dish or setting up a candle-light dinner for just the two of you.
Or you could surprise her by telling her to get dressed and lead to her to a romantic place, hire a limo too while you're at it! Turn a simple date into an amazing memory that you both won't forget.
How about a seemingly innocent star gazing night out? Ignite the magic of love by arranging some fireworks to decorate the night sky.
Go back to where it all started and re-enact how you to met. Have an out of town date to a place she has never been before but always wanted to go.
Try something new with her such as going to a trendy restaurant or just have a joy ride with something special to surprise her at the end of the day, cap off the night with some music and ask her to dance to the sweet and slow melody.
Whatever you do just add a little mix of surprise and effort for the fairy dust to levitate your romance up a notch.
Listen and Understand
Revamp the relationship by doing or giving her something you heard her say a few night's back. Let her know that her man listens to her, that she is appreciated and not taken for granted.
You may think your ladies are too demanding but all they really want is for guys to take some time and lend their ears.
Here's a secret to render a woman speechless and vanquish the nagging and arguments: Just listen and then respond.
Quietly take in her qualms and rants about her day at work, pay attention to her stories and read between the lines.
Know when her "it's okay" is not really what it seems to be. Give her a hug, a simple I love you or tuck in a lock of her hair behind an ear and tell her how beautiful she is.
Guys tend to be clueless as to the wants of women causing panic if they have no idea for the perfect gift for their muses.
In reality, you can find out what she really wants and great deal more if you just listen to her. You can win her heart by catching her off-guard by listening and understanding what she really meant.
Be the gentleman slash prince charming of her dreams and you'll see that you'll be crowned the king of her heart in no time.
You know, one great thing about being together, is that every day you get a chance to show to her just how much you love her.
Just showing how much your relationship means to you and going on full thrust on your efforts are quite enough to prove it to her and rekindle that romance between the two of you.
The true secret in keeping the spark alive is to never stop being in love.Always find ways to fall in love again and again, with the same person.
Show Some Appreciation
Everyone needs some validation, especially women in a relationship. Validation or appreciation of simple things that a person does to you brings happiness. Women are big on praises. They feel happier when their men appreciate the little things that they do.
However, they feel down when guys do not notice that they are doing their very best in the relationship. Thus, never miss the chance to show some appreciation to your girl.
Whether she's sporting a new haircut or wearing a nice dress on ordinary days, compliment her. Besides her friends, she would really like to hear some compliments from you. Don't just say that her dress looks "okay."  "Okay" seems the automatic response, but you would sound very bored and tired of her.
More importantly, when she asks you questions, give her the most genuine response and reaction. Girls appreciate sugar-coating, but they prefer honesty above all.
Look Good and Smell Good: Be the Trophy Boyfriend
No matter how many times your girl says that she likes you even when you haven't shaved your facial hair or you're wearing the same shirt and jeans, she actually wants you to clean up.
When she's nagging you to shave your facial hair or have a haircut, just do it. Women love to show off when they're in the arms of a well-groomed man.
Pro tip: A simple white shirt on jeans ensemble does the trick. Men in white shirt or button-downs look very fresh and clean. Perfect example: Ryan Gosling.
There are several ways to impress your girlfriend, but nothing beats making her feel loved each day. It's not enough that you tell her that you love her; you have to make her believe that you do love her and nothing else matters.